Do you have a laundry monster, a mountain of laundry that takes your weekends and makes you never want to do laundry again? My mom always told me that I should throw out all of my dirty clothes and start over. But, with a few changes to my routine and excellent laundry routine tips, I was able to free myself from the monster and finish all of our family's laundry without crying. Okay, that's a little dramatic, but you'll get the idea. Laundry is a daily task, and let's look at some laundry routine tips you can make every day to improve your laundry routine and save time.
Laundry Routine Tips:
#1 – Every Day, Do Some Laundry:
Having a load of laundry in every day will save you time in the long term. Instead of doing all of the laundry in one day, set aside 15-20 minutes each day to do at least one load of laundry. You'll go about your regular activities, dry the load, shake out the clothes, and start sorting.
#2 – Keep Clean Baskets and Dirty Baskets:
I'd started removing clothes from one basket, washing the dirty items inside, and then throwing them back into the same basket for a long time. It was both useless. My children's clothes are dirty. And then I was placing those clean clothes back into the basket which had held all that dirt after I had washed them! It is not a good plan unless you are careful about emptying your laundry baskets. Whites, darks and colours all have their dirty baskets. It helps you to spend less time sorting before washing.
Also Read: Why Choose Online Laundry Service Over Local Dry Cleaners
#3 – A Clean Bucket for Every Person: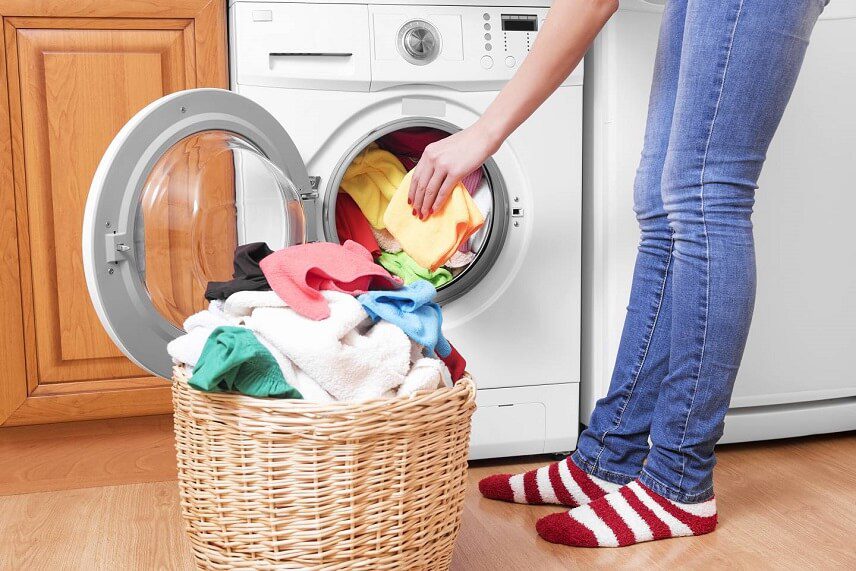 I used to put all of my clean clothing into a basket and arrange after, leaving me hidden near a pile of laundry. Now, as I remove each item, I fold it and place it in the proper basket. I sort each person's clothes into their little bucket. That's where I keep our baskets until we're ready to put away our clothes. I know that having so many cabinets in a laundry room is a luxury. If you don't have a space for them, you can arrange the baskets and put flat items in them until you're prepared to put them away.
#4 – Simplify Your Sorting:
It begins even before the laundry detergent is added. I created a strategy to make it much easier for my family to sort and store their clothes and I needed to simplify the process as much as possible to create a structure in which they could help with laundry as a chore.
I always buy clothes as a set. The coordinating pants/shorts/skirts are then folded into the top. It saves space in the closet and time in the morning when choosing outfits. All they have to do is put on a matching costume that they've planned ahead of schedule. Teenagers can be very different, and you'll need to develop a system that works for you and your family.
Also Read: Benefits Of Using Local Ironing And Washing Service
#5 – Create a Laundry Routine Schedule:
Day 1: Begin the week by washing and drying a load of laundry. I begin with darks because they look to be the bulk of my loads. Make sure your sorting system is set up for the remainder of the week.
Day 2: Do a load of laundry and dry it.
Day 3: Do a load of laundry. It's easy; it's the same as the prior day.
Day 4: Do a load of laundry and sort it.
Day 5: Today is the official folding and hanging day. On this specific day, I may have some incomplete sorting, and I'll do that, hang items on the basket's side, and keep the baskets in my children's room.
Day 6: This is the day that I hang and store all of my clothing. After that, I run washes of linens through the machine and put them away after each one. Today is also a great day to iron, stain-treat for the following week, or clean up any leftovers.
Day 7: It's time for you to take a break!
I wish you were given laundry routine tips and another key option I always choose on my vacation day and the festive season is that laundry service. I choose Prime Laundry for the best laundry service in London that provide free pickup and delivery service at an affordable price. Skilled and professional dry cleaner experts have better knowledge to remove stains on the fabric.