This new update allows you to customise delivery and pickup dates and times to suit your needs. Customers may then select from these predetermined time slots rather than demanding their own, which may or may not be suitable.
We understand; the idea of laundry pickup service and distribution is a new service. However, you're off to a great start by ditching your old laundry habits and jumping on board with our modern, interactive approach. Let's take a closer look at Delivery Time and Pickup Time.
Prime Laundry offers the best flexible laundry collection and laundry delivery service in the London area.
When you're just getting started, here are some of the most frequently questions:
What are the details of these 2-hour time slots?
I'm not sure if I'll be notified?
How can the majority of consumers deal with the 5-hour time slots?
Is it possible to have service the next day?
How do these laundry pickup and delivery time slots work?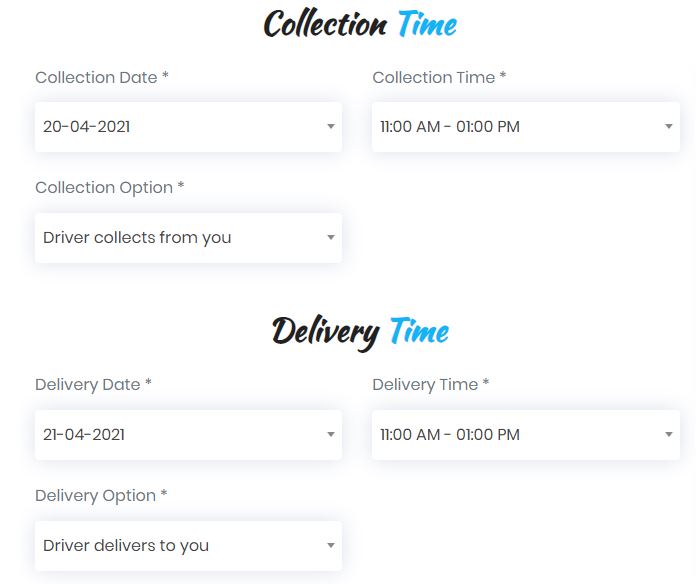 Based on the zip code, different time slots are available for laundry pickup and delivery. The easiest way to find out is to sign up for an account or log in. You should even have the android app or iPhone app; it's much more convenient on your phone!
Prime laundry provides all types of laundry service in the London area. Your zip code determines the laundry pick up and delivery for dry cleaning, ironing, clothing alteration, shoes repair, commercial laundry and wash & fold laundry services. The pickup delivery runs from 7 a.m. to 11 p.m.
Also Read: An Easy Ironing Guide To Press Your Shirts And Pants Correctly
How will I be notified?
If you want to get these updates, you'll be asked the night before your pickup to get your clothes packed, as well as immediately before the driver arrives and after the driver has retrieved your clothes. You'll be informed soon before the driver arrives and after the driver has successfully delivered your clothes on delivery day. You will be texted a snapshot and an update of your clean clothes delivery if you are not present for your delivery.
How do most customers handle the 2-hour windows?
We keep you informed through automatic text messages/emails when our driver has a more reliable ETA with a 2-hour delivery window. Please keep in mind that routes can change due to traffic, weather, and other factors. In any case, the majority of consumers want to leave their clothes out for delivery.
You are not required to be present at the time of your laundry scheduled pickup and delivery. If you have any specific instructions for picking up your clothes (for example, on the back porch, by the garage door, at the concierge desk, etc. ), please include them in your order notes. These notes aid in the effective completion of both pickups and deliveries. Simply set out your laundry bags for pickup; you'll be alerted along the way, and we'll take care of the rest!
Also Read: 5 Ways To Remove Stains From Your Clothes
Can I get next day laundry delivery service?
Prime Laundry has express wash and fold service the following day. On top of the regular free pickup, wash and fold laundry orders that need to be returned the next day with free delivery.
Otherwise, processing periods from pickup to fulfilment are usually 24 hours. This is dependent on 1) the providers you want and 2) if you want your order delivered the following day.
Quality laundry takes time, but we got a lot of input from our consumers that an upgraded next-day turnaround was what they needed – without compromising quality. As a consequence, we charge an extra fee for next-day delivery. You'll be asked if you want this order update when you place your order.
That doesn't appeal to you? Our regular two-day service is available at the same price and with the same scheduling options.
With the best laundry service near me in London, it's now simple to wash your stained clothing, and you'll have the best choices for getting your clothes washed up perfectly. Prime Laundry offers the best laundry services. It's the free same collection & next day delivered your clean items to your door. All of our standard laundry services require a minimum of 48 hours. For more details email us at [email protected] on give us a call at (+44) 798-437-5336.